Fine wines
In a luxurious atmosphere. Silver quartzite.
Fine wines
In a luxurious atmosphere. Silver quartzite.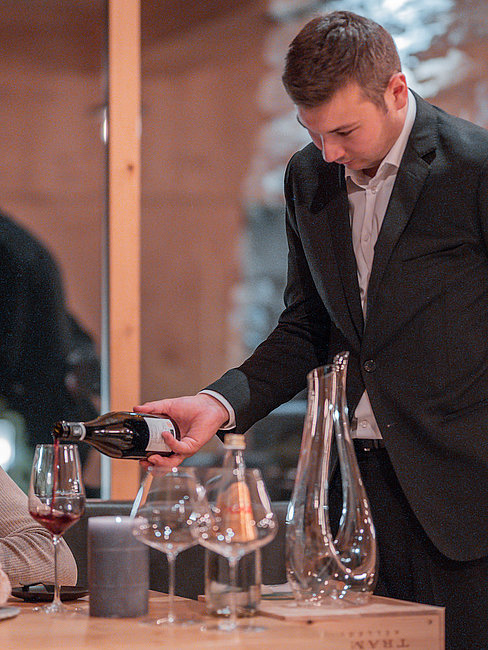 We love wine (lovers)
We live the love for the noble wines through and through. From the planning of the wine cellar in silver quartzite from the valley Pfitsch to the selection of each individual wine. The table in the wine cellar: a stone slab hanging from the ceiling on an iron chain. An elegant place perfect for private parties. Daniel Schölzhorn completed the sommelier training together with our restaurant manager Simon Klotz. Because wine inspires us. You can feel that. We are happy to recommend our favorites perfectly matched to your dish and share our love for wine with you. Right now, our wine list contains 500 positions.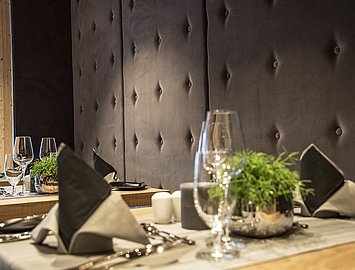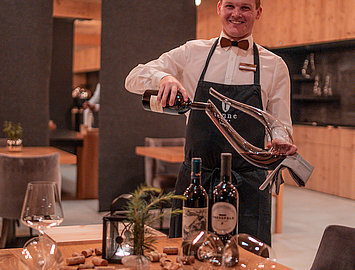 Never done learning. There's always something new to discover.
We indulge our fascination with wine on regular trips to wineries and wine-growing regions. Standing on the soil from which the vines grow. Feeling the sun and warmth. Authentic learning directly from the manufacturers. We have already discovered Burgundy in the heart of France for ourselves. In Italy, our travels took us to the following wine-growing regions: Franciacorta, Barolo and Bolgheri. Of course, there are many more on our list. And in every place very special stories await us.