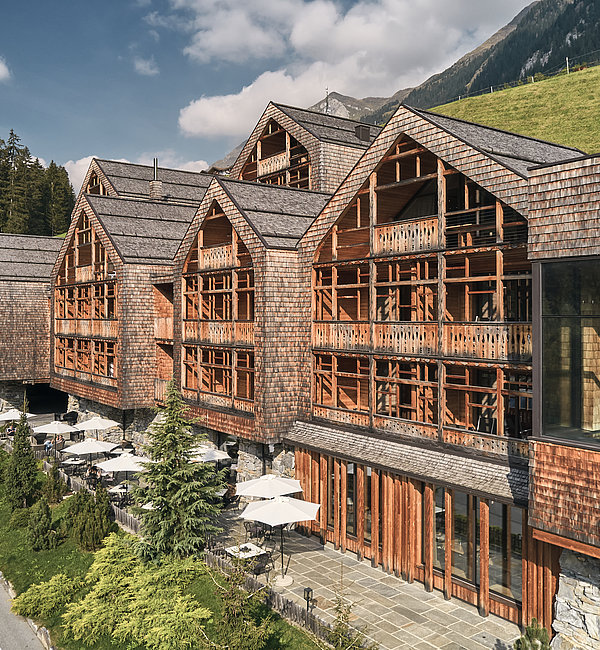 Simple. Archaic. Free.
South Tyrolean craftsmanship.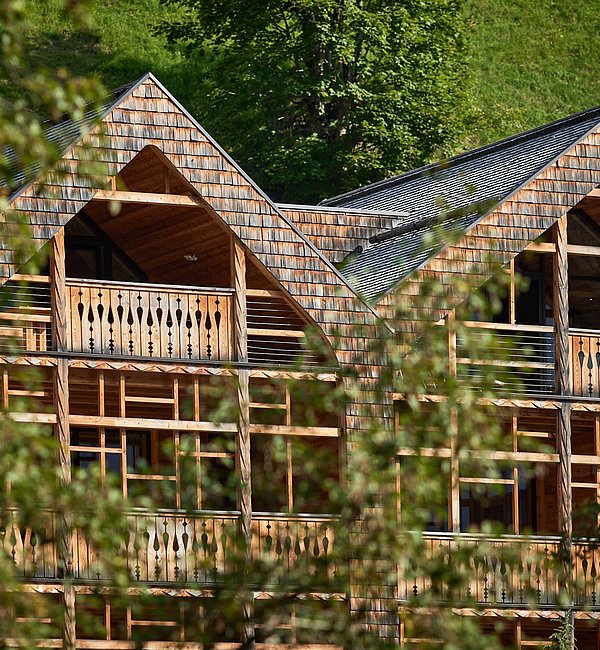 Simple. Archaic. Free.
South Tyrolean craftsmanship.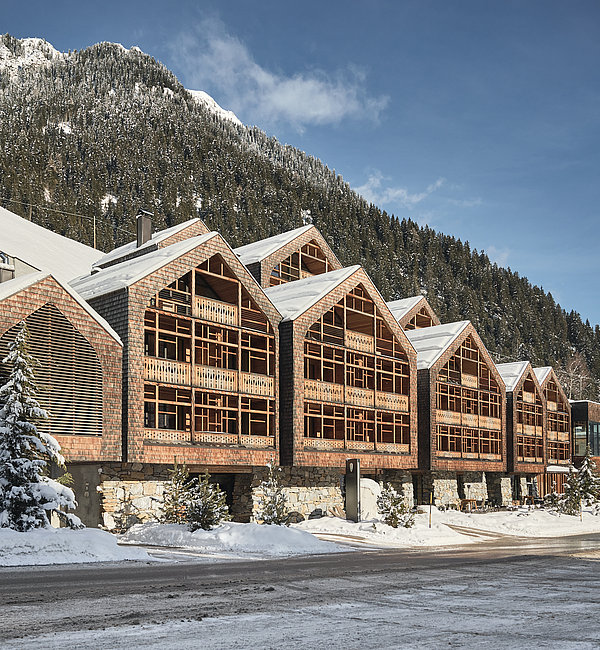 Simple. Archaic. Free.
South Tyrolean craftsmanship.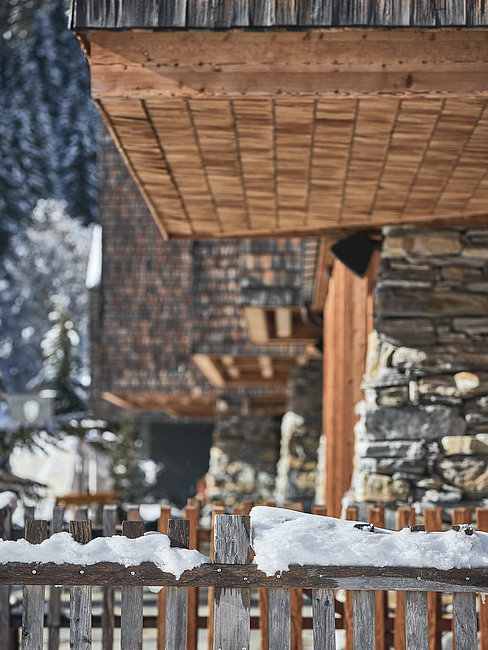 170,000 wooden shingles and half a million nails
Architect Martin Gruber planned the Tenne Lodges based on a vision of a hotel that reflects the nature of Ratschings. A symbiosis of stone and wood. Not only in the facade. These materials can also be found in the interior of the 5-star hotel. The wooden floors in the lodges, the clapboard in the infinity pool, the stone wine cellar, the outdoor stone jacuzzi and much more. Simple, archaic and free.
Natural stone walls made of silver quartzite from the valley Pfitsch. Processed by the stone mason Florian Oberhöller from Sarntal. In order not to change the original quality of the stones, they were not struck. They will remain as they had been formed over millions of years by nature. Gruber also planned the Tenne Chalets. There, too, South Tyrolean wood and silver quartzite stones are the central materials.
Space for liberty.
Space to be.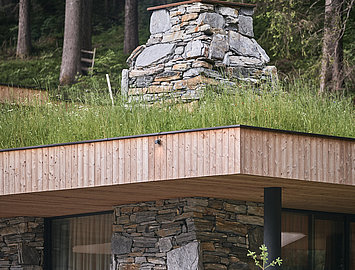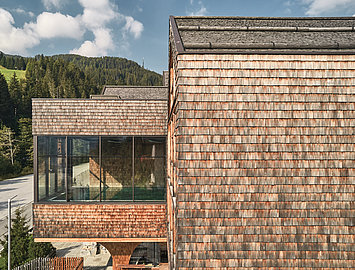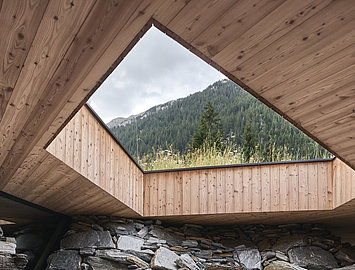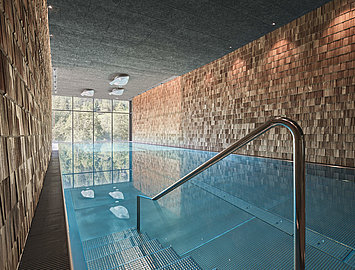 A holiday in freedom. Feel the vastness of the Tenne Lodges.
The lodges themselves are not conventional rooms. They have the character of a loft – a spacious room with free-standing furniture. A sense of freedom. When you wake up, you look directly at the sun while lying down. While the sleeping and living areas are flooded with light, the dining area is darker – as it is usual in South Tyrolean parlors. No lodge is like the other, each one is individually designed. Not just the room, the furniture too. The couches in the lodges are one of the many examples that architect Gruber designed specifically for the Tenne Lodges. The wood transitions in the lodges were specially cut.
Later, the wine cellar and the outdoor stone jacuzzi were added. We planned these additions together with our architect and our stone mason. With Oberhöller we also got a stone slab from a mountain cottage in Ratschings. Now it hangs as a table from the ceiling in the wine cellar. So, we created a very special wine cellar – designed by us, like the wine cabinet at the bar – perfect for private wine tastings and celebrations.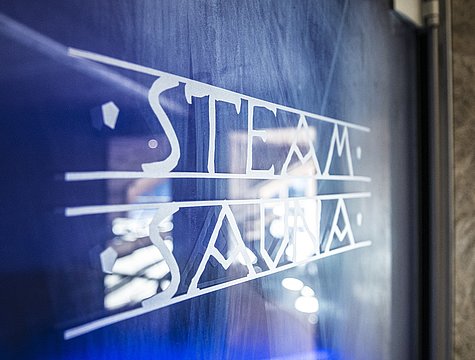 Created by Martin Gruber for the Tenne Lodges: The font Martinus.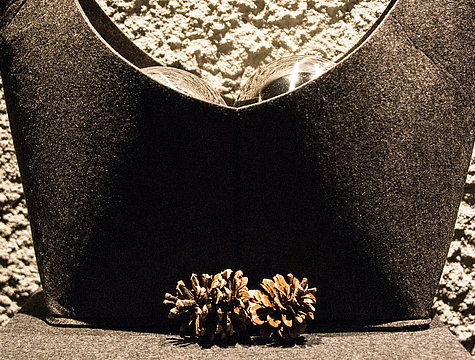 Elegant decoration and interior design by Engelbert Bortolotti.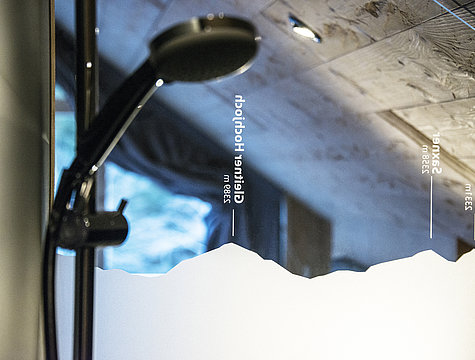 Also in the shower – the mountain peaks that you can see from the Tenne Lodges balcony.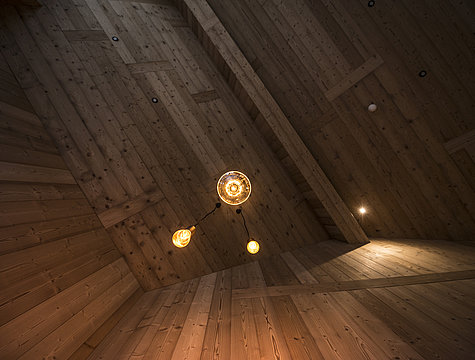 The lamps designed by Gruber also correspond to the symbiosis of spaciousness and simplicity.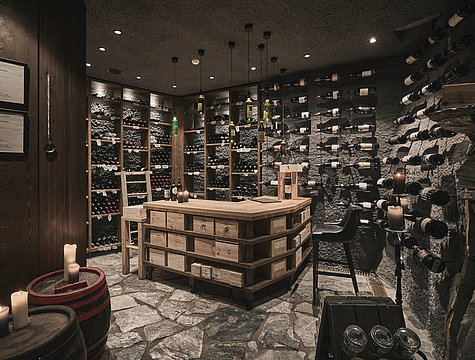 Stone slab from the mountain cottage now hangs from an iron chain as a table in the wine cellar.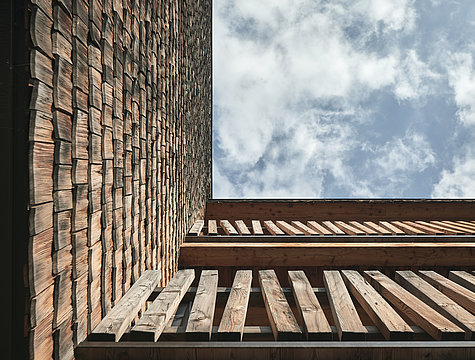 Thousands of wooden shingles, typical for the South Tyrolean building tradition.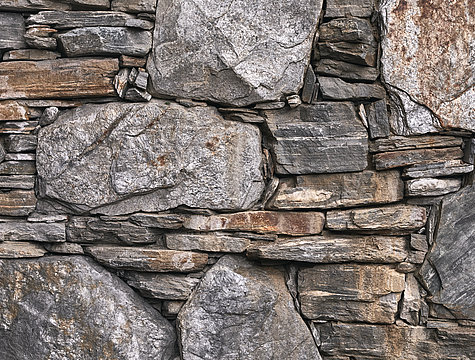 Silver quartzite from the valley Pfitsch, which, untreated, forms the foundation of the Tenne Lodges & Chalets.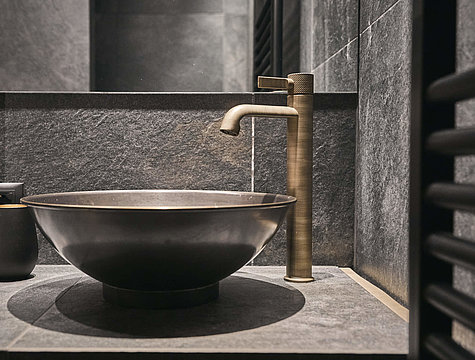 We thought of every detail. Elegance and style run through the whole house.
THE RIGHT CHOICE
LET US CONVINCE YOU AND EXPERIENCE IT FOR YOURSELF.